TRAITS OF "GOOD LEATHER"
The definition of "good leather" varies depending on the person. We provide a variety of leathers to fit all definitions.

Generally speaking, leathers can be divided into two varieties - leathers which bring out the original richness of the leather and easy-to-use leathers.
Original Richness
Leathers focused on highlighting their original richness are lightly processed. This means that the quality of the original hide decides how the leather will look.

Think about wood - the best woods with beautiful patterns are rarely painted over. In the same way, the better the original leather quality, the lighter the processing applied.
Smooth, unblemished hides are in high demand - and like quality wood, their higher price point reflects this. This is why lightly processed leather is more expensive.
Maximum Usability
Sofa leathers made for maximum usability are more heavily processed. This means a wider availability of original materials and a lower cost. In addition, a painted layer also protects the leather - meaning lower fuss in maintaining it.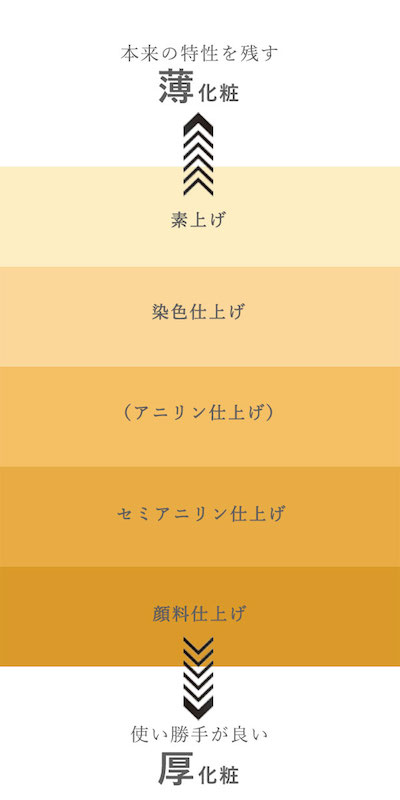 NATURAL FINISH
Leather after basic tanning through the application of oils etc. without any dyeing and painting. Its texture is the closest to leather's natural smooth feel. This is also the leather type which best shows how leather matures.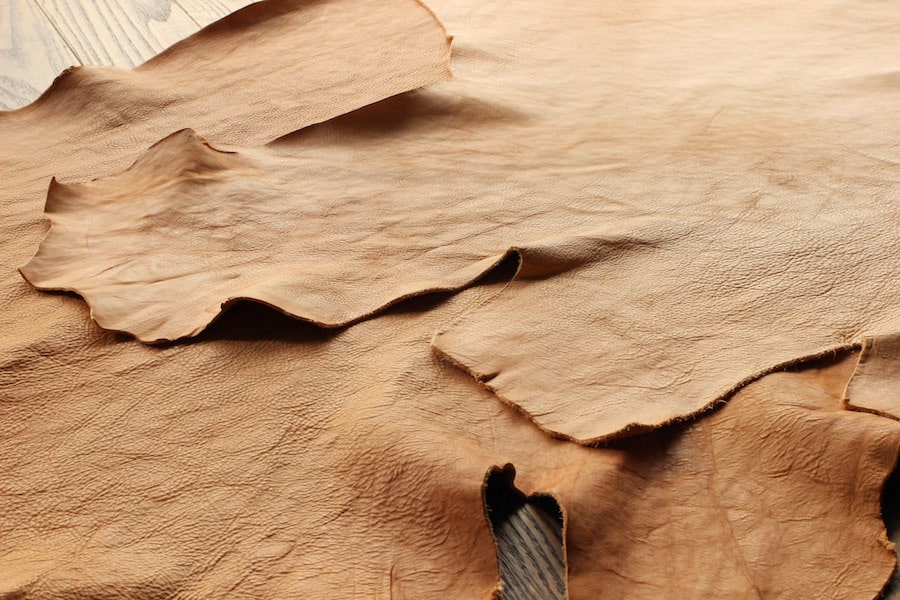 Leather can be tanned in two ways - through the application of tannin or through applying chrome. Chrome tanning is a new method which became mainstream post-WWII. Soaking leather in the chrome-based chemical does make it both flexible and strong - which explains why it is used far more commonly in sofas right now. However, this adds a blue-gray tinge to the leather, which is why it is not suited to sofas aiming for a natural leather look.
Leathers aiming for a natural finish are soaked in plant-origin tannin - like the tannin found in tea and fruit - making them full of strong, resilient fibers. The hue is at first pale, but as the tannin oxidizes the color will start to deepen.

However, these leathers are vulnerable to stains and dirt, which means that care needs to be made in order to reach that classic caramel color for a sofa.
As a side note, tannin-tanned leather minimally processed in this way is usually called "Nume Leather". However, among people in the tanning industry, "Nume Leather" can also be used to refer to tannin-tanned leather which is dyed.
Dyed Leather
Or otherwise known as "aniline leather". The leather is dyed after tanning, but this processing does not leave an outer layer. Just like natural-finish leather, alanine leather retains the original texture and maturing process of the base leather. However, care needs to be taken to avoid the dyes staining clothes or the colors fading.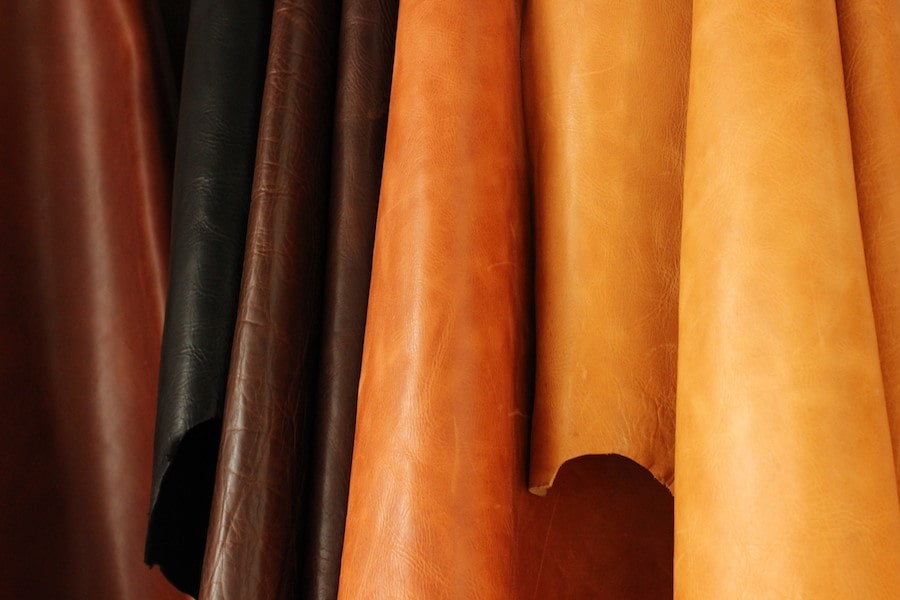 For example, if you are drenched in sweat on a hot day, sitting on the sofa will get it wet. The dye then will dissolve into the water and possibly get on your clothes. Our KW rank leather has had heat-treatment and a wax exterior applied and thus is resistant to dyes staining your clothes. However, please note that it is impossible to ensure 100% prevention.

In addition, dyes, including those for many other materials aside from sofa leather, are sublimable and can fade when exposed to UV radiation. Many sofas are placed in bright areas next to windows, but from a maintenance perspective we recommend placing them further into the room in a relatively shaded area. We also further recommend the use of curtains to block direct sunlight on furniture.
There is no protective layer around both minimally processed and dyed leathers. This means that the oil in the leather will diminish with time and regular oiling is necessary.

Leathers which have insufficient oil will be dry and have more obvious scratch marks. They will also be more brittle, leading to the "feathering" of the exterior. Leather left in this state will start to crack and split. At this stage, they will be irreparable and so we request that our customers care for the leather regularly.
Semi-Aniline Leather
Leathers which, while retaining its original look, have a thin protective layer which protects them from stains and fading. The thinness of the protective layer makes it practically transparent, leaving the leather's natural appearance while heavily reducing necessary maintenance.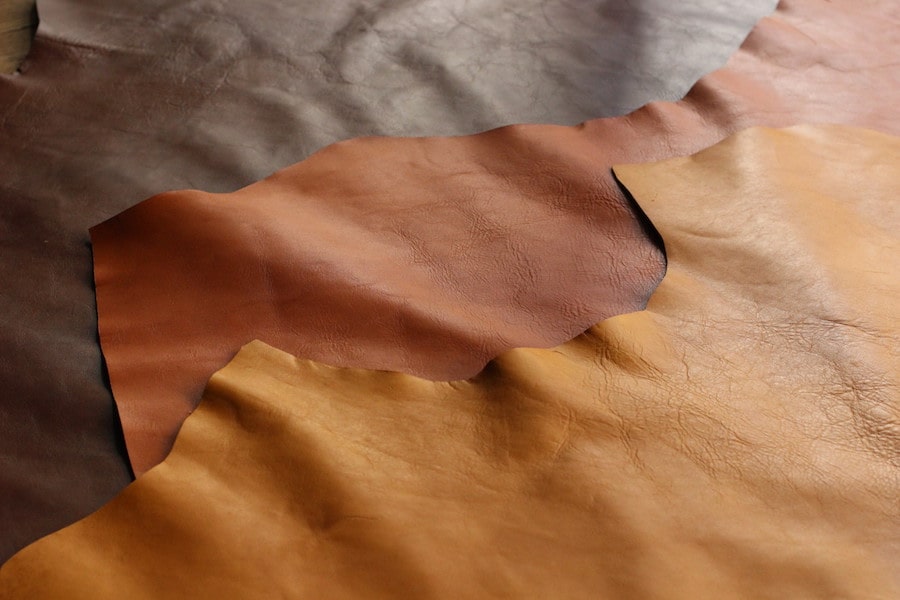 Though easy to use as it is resistant to stains and fading, semi-aniline leather loses the signature texture and maturing process of the original leather. The thinness of the exterior layer also means that it is not as resistant as the other leathers below.
PAINTED LEATHERS
Leather coated in a layer of dye. This layer protects the leather from stains and fading and is very low-maintenance. The dyes themselves are also bright and resistant to UV fading and thus painted leathers are available in many vivid colors. Maintenance is easy - wiping with a dry cloth will suffice. Stains from hand dirt etc. can usually be removed with by wiping with a well-squeezed cloth after dipping it in hot water.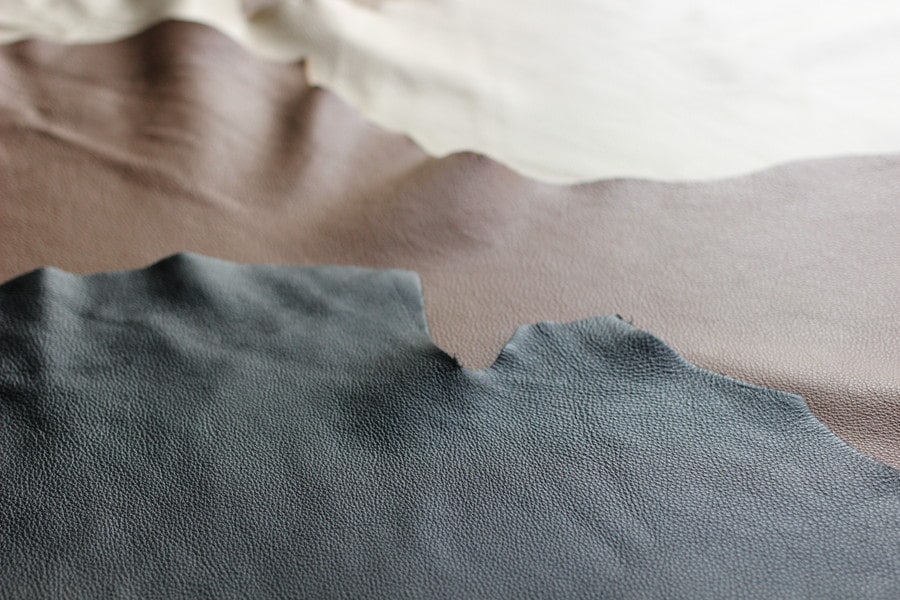 This leather is also more economical as the dye hides flaws of the original hide - making the price of the original leather used lower. The easier and more uniform processing process, in addition to the lower price, means that most sofas in Japan are made with this grade of leather.
However, the natural texture, look and maturing process is diminished by the painting process. Also, with continued use, the outer layer of both semi-alinine and painted leathers will wear out and may display small cracks. This can be repaired by either re-dyeing or by replacing the leather.
The longevity of this leather differs greatly with conditions of use but based on our experience, cracks are likely to start appearing on the exterior of the leather after 10-15 years of use.
THE BEST LEATHER FOR YOU
A delicate, but lightly-processed leather that retains its original charm? Or a more heavily processed, cheaper leather with lower maintenance needs?
Each type of leather has its pluses and minuses. There is no universal "best" leather but there are leathers which will be a perfect fit for your needs.